Q1: How does Apartment Hunter's service works?
Our service is offered free to the public. If you see properties in our website that interest you, please email the leasing agent or call our office for availability information. You may also fill out our simple search form to get a free list of available properties that match your criteria. Either way, we are here to save you time!
Q2: When is the best time to look for an apartment in Seattle?
Based on our experience, within 30 days of your target move-in date. Reason: in Seattle, you only need to give 20 days notice to vacate your current apartment. There is just not enough information for availabilities outside of 30 days.
Q3: What are the criteria to rent an aparmtent in Seattle?
Landlords will consider the 3 major criteria: Rental history , Credit History and Income ( most properties require that you earn at least 3x the rent).
Q4: What is the price range for rentals in Seattle?

| | | |
| --- | --- | --- |
| In City (within 20 miles of downtown) | Rent (from) | Rent (to) |
| studio | $ 750 | $ 1,000 |
| 1 br | $ 800 | $1500 |
| 2 br | $1300 | $ 2500 |
| 3 br | $1500 | $ 4000 |
| | | |
| Eastside ( Bothell to Bellevue) | | |
| studio/ 1br | $ 850 | $1400 |
| 2 br | $ 1300 | $ 2700 |
| 3 br | $ 1700 | $ 3000 |
| | | |
| Seattle ( more than 20 miles from downtown) | | |
| studio / 1br | $ 650 | $ 1000 |
| 2 br | $ 640 | $ 1,300 |
| 3 br | $ 850 | $ 1,400 |

Other Resources:


Fodor's Pacific Northwest: with Oregon, Washington, and Vancouver (Full-color Travel Guide)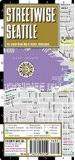 Streetwise Seattle Map - Laminated City Center Street Map of Seattle, Washington - Folding pocket size travel map with monorail & streetcar lines